Race Performance & Adcash at Le Mans 2016 – 1 day to go
by

Kreete Pruul

Jun 17, 2016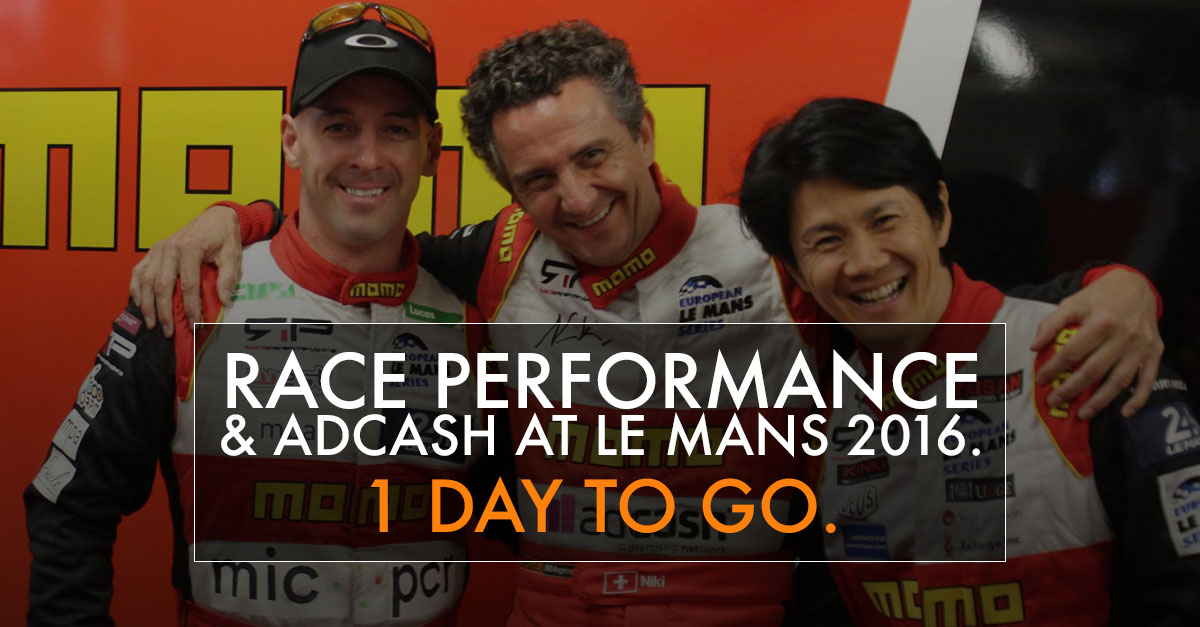 So, here we are. 1 day away from one of the most prestigious events in motor racing, the 84th running of the Le Mans 24 hours endurance race. 60 cars, divided into 4 main classes, LMP1, LMP2, GTE Pro and GTE Am, all on track at the same time, all racing for the title in their respective classes.
Qualifying results
Yesterday saw qualifying for the main event take place, amid heavy rain and generally treacherous conditions (at one point in the evening, even the safety car had a moment!).
Despite the conditions, the Race Performance team qualified in 30th position overall and 21st in their class. Not a perfect result, but not bad, considering the conditions and their Judd engine being a little bit down on power, compared to the more widely used Nissan engine.
But in endurance racing, as the saying goes, to finish first, first you have to finish. Granted, the race itself is more like a 24 hour sprint, but anything can happen. If you can outlast your opponent, be more agile, while preserving your tyres, keep out of any incidents, then your chances are much better come sunrise and into Sunday.
Before the race all power units, engine, gearbox, transmission and electronics, will undergo a complete change and be replaced by completely new components to be well prepared for the stressful 24 hour challenge. Seeing the chequered flag again this year would mean a world record in terms of reliability for Race Performance at Le Mans. Finishing six out of six races without any retirement has never been done before by any team in any class there.
The team have also been experimenting with the new, Dunlop tyres, with mixed results, but overall the car looks to be solid: "We still haven't completely understood the different Dunlop tyres one hundred percent, and so we got a bit lost with one of the compounds for some time. But the reliability of the car was really promising".
So, the team's ready. We're ready. Let's do this!
The race itself starts at 3pm local time on Saturday and you can catch it on Eurosport, Fox Sports and, of course, Radio Le Mans.
If you want to keep track of what Race Performance are up to, they'll being doing some Facebook Live streams during the race. Head over to their Facebook page for more info.