Sports are back in action and the world is buzzing with anticipation! It's time to kick-off where we left off and get your campaign going for gold!  
In this run down, we'll take you through the best campaign tips, tricks, and strategies to advertise and monetize all the massive sporting traffic crashing onto the scene in the days and weeks to come! We'll also throw out some must-see fixtures rolling up this June/July and beyond. 
So, without further delay. Advertisers! You're up first! Lace-up, show up, and get your game face on as we hail in the
RETURN OF SPORTS!!!
Let's start with…
How do I get the most online traffic from sports? 
There are a whole bunch of different ways to make the most of sports and, with so many fantastic fixtures coming your way this June/July, here are the beginnings of the road to terrific targeting. Let's dive into…

The top set up tips for advertising sports?
Step 1: Experiment with different ad formats
Different ad formats have their own need to know points and the gains for each are usually dependent on the market you're targeting and the content you're creating. That being said, we've seen great results in three formats recently, both in sports and other market segments. These are…
Pop-Under Ads
A top seller and the go-to for most advertisers/publishers. Readers will love you for it as it's a LOT less disruptive, allowing them to finish what they're doing whilst giving them the option to return to the ad once they're done. (and probably eliminating some "colorful language" and a frantic race to the skip button) With Pop-unders, you're going to want to make sure that your landing page is in line with the event that you're promoting. If it's football, make sure to use the specific target keywords that come with the sport, the event, and the hype around it. Wherever possible, avoid generic CTAs and bring in your own incentives/perks or bonuses for higher visibility. 
A wise person said "Once you pop, you can't stop" 
Okay, it was Pringles, but still, pretty profound for a chip…
Read more about Pop-Under Ads and see if you agree. 
Interstitials 
Ah, Interstitials! The ultimate way to get results when running a campaign. Their maximum visibility and rich, tasty content ensure a nice delay in exit times AND…a solid shot at increasing your audience interaction. As opposed to most platforms, they use a 5-second countdown window, ensuring your creatives are more user friendly, have more time to load and will be seen before the ad gets skipped
Step 2:
Run Multiple Campaigns
Onward to step 2! And this is a big one. Run multiple campaigns at the same time, which can be broken into the below two types…
The Adcash Supply Source
Here you're targeting your campaign to the Adcash direct supply inventory. You'll need to disable the "allow traffic from different supply sources" button on your DSP platform and once done, this will mean no new "external sources" will be added in the lifespan of the campaign. 
Also, you're going to want to make the absolute most of traffic spikes during live sporting events, especially with so many on the horizon. But we'll get into that a little later. So,  when setting your campaign "capping", it's important to disable the "spread budget through the day" button. This way the traffic you get will run according to spikes in the sporting calendar and not drain out in low periods.
And lastly, you're going to want to whitelist specific sporting categories. We recommend tapping into the below and leaving out the rest. 
⚽ Live Sporting Events 
🏀 Sports Videos and Channels 
🎾 Sport News 
🏈 Sports 
⚾ Sport Betting 
All Other Supply Sources
It's phase two of your multiple campaign catch! Moving into External Supply Sources. Pretty much the exact opposite of what we've just done. Here you'll select  "All" and disable "Adcash" 
The same rules apply. Disabled the "spread budget throughout the day" option and whitelist the same sporting categories (like you did above).
Step 3:
Select the Right User Interest Targeting
Make the most of User Interest Targeting by selecting ONLY the "sports" category. By doing this, your ads will be targeted at users who have shown noticeable interest in sports-related websites. Select all supply sources when using this targeting method and remember to use the "spread" option on cappings, to avoid spreading your budget too thin. If you wish to target sports sites only, then you'll need to target sport as a "site category"
Step 4:
Opt for CPA Target Bidding
Welcome to a world of seamless, fully automated ad optimization. Here you're able to set the CPA cost of what you're willing to pay for each conversion and… our cutting edge targeting algorithm will automatically try to match it to the tee. We always recommend using the CPA Target bidding type. This means you can say goodbye to creating bid adjustments from scratch or having to always manually tweak your traffic sources. CPA target bidding does all the work for you! Find out what you need to know about CPA Target Bidding right here
Step 5:
Budgeting and capping
When setting your budget, use the "weekly distribution" option which allows your campaign to run only when relevant sporting events are taking place. Meaning you get the highest traffic and the most bang for your buck in the build-up to game time!
Step 6:
Use the right keywords
Make sure you use the right "URL keywords" specifically related to sports and sporting terminology. This will let you target the same keywords that website owners and publishers would use, eg. UFC fight night, football, NBA playoffs, etc. It also pays off to localize keywords in your native language as well as highlighting specific information, like where the event might be taking place. 
Step 7:
Think of the GEOs you would like to target
So, usually, this depends on the regions you are trying to break into. Certain GEOs hold all-year-round popularity, like the US, Canada, and Mexico. Latin America is an up and comer with a massive football presence across the continent. But, with sports having been away for so long, the whole world is mad with anticipation and can't wait to see what's on offer! So, come in strong and target your traffic worldwide as a general rule. (unless, of course, your offer is country-specific). 
Start Advertising while you sleep!
We hope we've set you on the road to campaign advertising awesomeness! If you've been around the block a while and are looking to jump back into sports, then power to you! And, if you're new to the game and this is your first rodeo, then sign up today. Need some more info? No sweat! Reach out to us here and we'll answer any questions you may have.  
But before we get into how best to increase your earnings as a website owner…
How does Adcash bring your traffic to life? 
We ensure you get a direct flow of premium traffic, straight from the source and sent straight to your door, with our exclusive network of publishers. Added to that, we'll make sure we only show the most relevant ads to users, ensuring a highly targeted approach every time. Our stellar Ad fraud technology goes above and beyond, eliminating fraudulent traffic and bothersome bots whilst protecting your campaigns from any and all external interference. 
It's Halftime! 
Catch a breather… 💨
Knockback a bright blue Powerade and brace yourself for an action-packed Round 2 🥊
Okay. Breaks over! Time to answer the burning question on every website owner's mind…
How do I make a profit with sporting events?
It's been a strange few months for online advertising. Especially if you own or operate a site within sports or sports affiliated products. 
COVID-19 put a halt to pretty much every major sporting fixture across the globe. Something no one would've believed until, well… it actually happened. But, where there's change, there's an opportunity. We kept ourselves busy, perfecting our game and, we've come out stronger and fitter than ever. 🏃‍♂️ It's business as usual and our campaigns are ready and waiting!!!
NB: With sporting events have been on the ice the past while we've racked up a team of the biggest and best advertisers in the sporting game today. They're all fired up to start running campaigns straight away and they need your websites to help them do that! Be first out of the gate and get unprecedented access to the best sports advertisements. 
So, without further delay, let's get into… 
The top set up tips for monetizing sports-related websites
Step 1:
Keep your Adcash tags live
A big "need to know" for hosting high-quality ads on your website is creating tags on your live site. When setting up requirements on the DSP platform, you'll need to copy the Adcash Javascript code to your website. Once done, this will ensure the right tags are showing behind the scenes and that everything has been added successfully to your website. For more information, head over here and check out the full support article. 
Step 2:
Use the most relevant URL keywords
Using the right keywords on your website's landing page content and URLs is the way to go. It allows us to track down and provide targeted, high-quality ads for all your incoming web traffic. With the right keyword strategy in place and, if done to maximum effect, the chances for increased earnings climb up, up and away!
Step 3:
Work with one ad provider
Working exclusively with a single ad provider is a good approach. When you combine multiple networks, quality control can become a bit of an issue and the user experience tends to diminish. Here at Adcash, we make it our daily mission to provide clean, transparent, and direct traffic sources, ensuring the highest ad quality and top-notch user experience with every campaign. However there are various networks out there and, although we'd love to be the ones to help knock your earnings out the park, (I mean…OF COURSE!), it's understood that, with online advertising, a one size fits all approach doesn't always work and… it pays to shop around and do your research first. 
Step 4:
Optimize with the right ad formats
Using 2 key ad formats is the trick for well placed and effective campaign traffic. For sports, we've seen some great results with Pop Unders (for their clever placement and decreased interruption to  user experience) and our NEW Overlay Interstitials, (which we spoke about in detail in the advertiser section), with their 50% click-through rate and tailoring options (including an ability to set the run time) 
Spread the world and get a 5% lifetime Bonus!
Like what we're doing and how we're doing it? Refer other publishers to our platform and we'll guarantee you earn a 5% lifetime bonus for every new lead. It's how we say "thanks for the support" and it's a way to keep you on the pulse of what's happening in our world.  
How does Adcash monetize your website?
Our state of the art technology matches the right ads to your traffic, making sure that visitors to your site are only exposed to the most relevant, unobtrusive and up to date advertising in the world today. The results are a high eCPM value per user, as the ads sourced tailors themselves to your user's interests and site functionality.  We have a list of fast payout options to choose from ensuring you receive your earnings in the shortest possible time frame. You can read more about these services in our FAQs portal here. We operate in 196 countries (and counting) ensuring coverage from literally anywhere in the world. Also, our advanced Adblock technology sees to it that the flow of high-quality ads to your domain is never interrupted. And, last but not least, our team of dedicated specialists is always around to share tips/tricks and optimization strategies whenever you need them. You can reach out to them right here
Start earning today!
New to the world of website traffic? Got a website just waiting to be put to good use. Then sign up today and earn while you sleep. Alternatively, please feel free to reach out to us anytime for more information, tips, tricks or strategies to get you started on the road to success. You can get in touch with us here

And now, let the games begin! 
Ladies and gentlemen. It's official! Sports are back in action and the best of the best are lighting up arenas and stadiums across the globe with adrenaline-inducing, heart-thumping, show-stopping fixtures. The world is watching and ready to take in all the action they can.
So, what does this mean for digital marketing? In a word?
Gooooaaaallll!!! ⚽⚽⚽
It's time for both advertisers and publishers to leverage back into sporting events, whilst increasing their ad performance and skyrocketing their profits. 
All things football!
So, what fixtures are on the cards and when are they going down? 
Let's start with the one and only Beautiful Game!!
German Bundesliga (May 16th)
Date
Fixtures
Time (GMT +1)

June 20th  

Bayern vs. Freiburg 

Fortuna Dusseldorf vs. Augsburg

Hoffenheim vs. Union Berlin 

Mainz vs. Werder Bremen

16:30

16:30

16:30

16:30

June 27th

Dortmund vs. Hoffenheim 

Freiburg vs Schalke

Wolfsburg vs. Bayern

Werder Bremen vs. Cologne

16:30

16:30

16:30

16:30
Spanish La Liga (June 11th)
Date
Fixtures
Time (GMT +1)

June 22nd 

Leganes vs. Granada

Villareal vs Sevilla

20:30

23:00

June 23rd

Levante vs. Atletico

Valladolid vs. Getafe

Barcelona vs A. Bilbao 

20:30

20:30

23:00

June 24th  

Alaves vs. Osasuna

Real Madrid vs. Mallorca

20:30

23:00

June 25th 

Eibar vs. Valencia 

20:30

June 26th 

Savilla vs. Valladolid

23:00

June 27th 

Celta Vigo vs. Barcelona

18:00

June 28th 

Espanyol vs. Real Madrid

23:00

June 29th 

Getafe vs. Real Sociedad

23:00

June 30th 

Barcelona vs Atletico 

Real Madrid vs. Getafe

21:00

21:00

English Premier League (June 17th)
Date
Fixtures
Time (GMT +1)

June 17th 

Aston Villa vs. Sheffield United

Manchester City vs. Arsenal

20:00

22:15

June 19th 

Norwich vs Southampton

Spurs vs Manchester United

20:00

22:15

June 20th 

Watford vs. Leicester

Brighton vs. Arsenal 

West Ham United vs. Wolves

AFC Bournemouth vs. Crystal Palace

14:30

17:00

19:30

21:45

June 21st

Newcastle vs. Sheffield United

Aston Villa vs. Chelsea

Everton vs. Liverpool

16:00

18:15

21:00

June 22nd

Manchester City vs Burnley

22:00

June 23rd

Leicester vs. Brighton 

Spurs vs. Westham United

20:00

22:15

June 24th 

Manchester United vs. Sheffield United

Newcastle vs. Aston Villa 

Norwich vs. Everton 

Wolves vs. AFC Bournemouth

Liverpool vs. Crystal Palace

20:00

20:00

20:00

20:00

22:15

June 25th 

Burnley vs. Watford

Southampton vs. Arsenal

Chelsea vs. Manchester City

20:00

20:00

22:15

June 27th 

Aston Villa vs. Wolves

14:30

June 28th 

Watford vs. Southampton

18:30

June 29th 

Crystal Palace vs. Burnley

22:00

June 30th 

Brighton vs. Manchester United

22:15

July 1st

AFC Bournemouth vs. Newcastle

Arsenal vs. Norwich

Everton vs. Leicester

Westham United vs. Chelsea

20:00

20:00

20:00

22:15
Italian Series A (June 20th)
Date
Fixtures
Time (GMT +1)

June 20th  

Torino vs. Parma

Verona vs. Cagliari

20:30

22:45

June 21st

Atalanta vs. Sassuolo

Inter vs. Sampdoria

20:30

22:45

June 22nd 

Fiorentina vs. Brescia

Lecce vs AC Milan 

Bologna vs Juventus 

20:30

20:30

22:45

June 23rd

Verona vs Napoli

Genoa vs Parma

Torino vs. Udinese

20:30

20:30

22:45

June 24th 

Inter Milan vs. Sassuolo

Atalanta vs. Lazio

Roma vs. Sampdoria

20:30

22:45

22:45

June 26th 

Juventus vs. Lecce

22:45

June 27th 

Brescia vs. Genoa

Cagliari vs. Torino

18:15

20:30

June 28th 

AC Milan vs. Roma

Napoli vs. SPAL

Parma vs. Inter Milan

18:15

20:30

22:45

June 30th 

Torino vs. Lazio

Genoa vs. Juventus

20:30

22:45

July 1st

Inter Milan vs. Brescia 

Lecce vs. Sampdoria

SPAL vs. AC Milan 

20:30

22:45

22:45
There will be Blood! 
From football fandom to "winner take all" beatdowns, the Ultimate Fighting Championship (UFC) is back and rocking the octagon with the best "breakneck" bloodsport battles to hit 2020. It's been proven time and again that UFC + high-quality traffic = big paydays. So, without further delay, let's get into it… 
UFC Fight Night: Curtis Blaydes vs. Alexander Volkov (June 20th)
The clock is ticking down to the hottest UFC event of the season. America and Russia go head to head in an all-out heavyweight brawl between Curtis Blades and Alexander Volkov.  Coming to you live out of the UFC APEX arena against the bright backdrop of Las Vegas Nevada, it's one of the most anticipated fights in the UFC calendar. This will be the second last fight before the action heads to Abu Dhabi for an unheard-of event called UFC. FIGHT ISLAND. 
UFC on ESPN 12 – Dustin Poirier vs Dan Hooker (June 27th)
The legends of the Lightweight division are taking their skills to the cage for the interim Lightweight title. It's  Dustin Poirier, all American mixed martial artist and Brazillian Jiu-jitsu specialist vs. Dan Hooker, former middleweight kickboxing champion and Muay Thai specialist fighting out of New Zealand. This showdown has been on the cards since May but due to COVID-19 precautions, it had to be postponed. Now, these warriors have been training like machines and can't wait to get in the cage.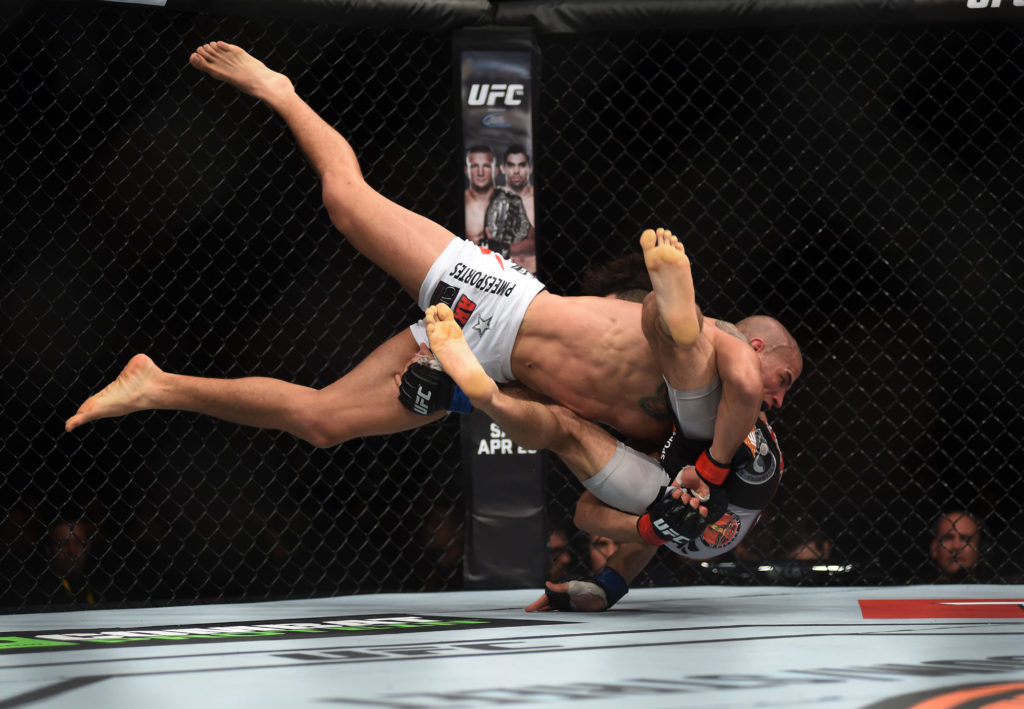 Coming Soon! UFC Fight Island!! July 2020
So here's an interesting thought…What does an international sporting franchise worth more than $4 billion do when a pandemic hits and sports fixtures have to go on the ice to account for social distancing? How about BUYING A PRIVATE ISLAND in the Persian Gulf and creating an offshore, star-studded fighting championship! Welcome to FIGHT ISLAND! The most brilliantly unique and never before seen event to have come out of contact sports. With a who's who of mixed martial artists stepping into the cage, there's no arguing that UFC Fight Island is going to be the biggest thing to come out of the 2020 sporting calendar and um… (hint time) One hell of an online advertising opportunity in the days and weeks building up to the event. 
UFC 251 – Kamaru Usman vs. Gilbert Burns (July 11th)
This event marks the beginning of the UFC Fight Island matches. Coming to us live out of Yas Island, Abu Dhabi, it's Gilbert Burns, 3-time world champion and Brazilian Jiu-Jitsu black belt vs. Kamaru Usman, current UFC welterweight champion and master grappler. Watch as these two fighters meet head-on in the Octagon come July. 
UFC Event  – Joseph Benavidez vs. Deiveson Figueiredo
Bringing you the best in the flyweight fights, two of the top contenders in the game are going head to head later in July. Joseph Benavidez is looking to take the championship from Deiveson Figueiredo, the Brazilian Jiu-Jitsu specialist and current champion of the UFC flyweight division. With so much at stake, who will be the victor?
That's it for now. We hope the above breakdown got your pulse racing and your online muscles burning. Remember, if you haven't yet seen all the awesome features in the new and improved Adcash DSP platform, then you can sign up right here, or alternatively reach out to any of our advertiser/publisher managers over here and we'll get back to you in quick time. 
Alternatively, you can follow us on Facebook, Twitter, LinkedIn, or Instagram for sporting news and industry updates. 
Thanks and best of luck reaching out to the world!!
Questions? Or just want to shoot the breeze around sports?
We'd love to hear from you! Please leave them in the comments below. 
Adcash. Game on!!